New playground coming to Darkley Primary School and Village
18th Dec 2013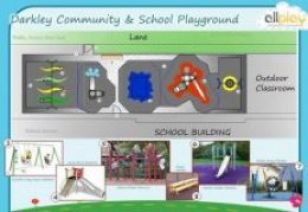 Plans for a new play park in Darkley have taken a significant step forward. At the end of last week the Council submitted a planning application for the new park which will be on the grounds of Darkley Primary School and will operate on a dual use model.
This would mean the school would have use of the play park during school hours and the community would have use of the facility at evenings, weekends and during the summer months. (Same as the park at Derrynoose)
This is great news for Darkley and thanks to the Principal, Staff and my fellow Board of Governors at the school for their support in getting the project to this stage.
Darkley Primary School, Moss Row, Armagh, Co Armagh, BT60 3BG | T: 028 3753 1484